FBX Index April: Market Summary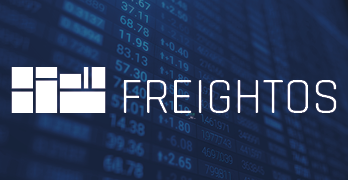 Congestion, delays and equipment shortages due to the Suez blockage drove a 5% increase in the Freightos Baltic Global Container Index (FBX) this month to a new high of $4,376/FEU.
Though the Ever Given was cleared before the end of March, the effects at Europe's ports and the resulting increase in rates were only felt in mid-April when the surge of delayed and scheduled ships arrived all at once creating delays, backlogs and a worsening of the empty container shortage at Asian origin ports while demand remains very strong.

Schedule disruptions and equipment scarcity are expected to continue through the first weeks of May before improving in June.
From mid-February to mid-April, Asia-North Europe freight rates gradually declined, dipping 14% below their record February high. But late-month Suez impacts reversed some of that dip, pushing prices up 4% compared to last month to $7,730/FEU. Asia-Mediterranean prices likewise increased 7% to $8,053/FEU, just below their January high. Backhaul rates from Europe to Asia remained largely unchanged as carriers focus on returning empty containers.
But the fact that the Suez crisis did not send rates spiking may be a sign that these already extremely elevated rates are already pushing at market tolerance for higher prices.
Europe-North America rates that had begun climbing last month on improving demand and some blanked sailings by carriers spiked 57% this April to $3,428/FEU, an 83% increase since the start of the year. The transatlantic jump is likely a result of Suez-driven congestion and competition for equipment at European origin ports as well as reduced capacity as carriers may be reallocating resources to alternate oversold lanes.
Asia-US East Coast rates increased 7% to $6,203/FEU, after reaching a new high mid-month, likewise a result of still-surging demand and some reduced capacity from Suez delays.

Transpacific Asia-US West Coast rates fell 6% to $4,854/FEU, still triple last year's level. Though port congestion and delays have improved compared to the start of the year, they continue to be a problem as estimated volumes in March and April were not much below the October peak. Consumer demand and still-lagging inventory levels suggest no let up is coming anytime soon, with additional demand from the start of ocean's annual peak season in July not far off.

About Judah Levine, Research Lead, Freightos
Judah is an experienced market research manager, using data-driven analytics to deliver market-based insights. Judah produces the Freightos Group's FBX Weekly Freight Update and other research on what's happening in the industry from shipper behaviors to the latest in logistics technology and digitization.


Receive monthly container market reports direct to your inbox.