Why maritime history matters - an interview with Nick Collins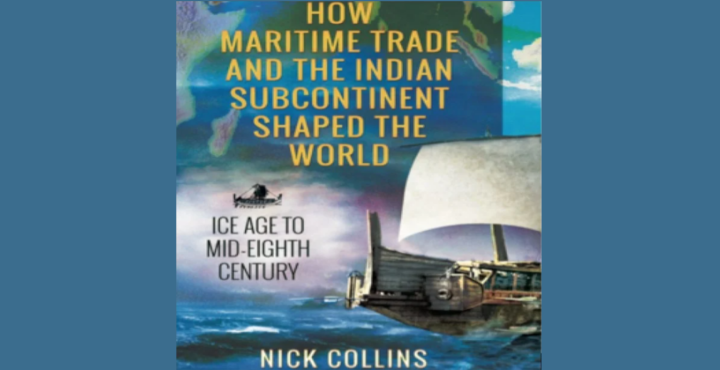 The Baltic Exchange recently sat down with Nick Collins to discuss his new book, How Maritime Trade and the Indian Subcontinent Shaped the World: Ice Age to Mid-Eighth Century, published by Pen and Sword.
Collins joined the Baltic Exchange in 1976 as a trainee shipbroker. His career in maritime trade saw him work in Europe, Asia, and the Middle East - including time as managing director of Clarksons Asia during the 1980s. In 2010 Collins became chief operating officer of Clarksons Dubai up until his retirement in 2014.
His curiosity in the history of maritime trade is what led to him writing this book.
"Having earnt a history degree many years ago, I was surprised to learn there was no history of maritime trade," he said.
"There was no continuous history books out there linking all the themes. There was actually very little written about trading in the ancient world, the exchange of commodities, or economics at all. The history of maritime trade deserves to be told."
The book looks at the development of maritime trade in the Indian Ocean during the Ice Age and how Asian trade dominated this very early period before trade in Europe began to take hold, including with the development of the Greek and Roman empires.
Despite covering such a wide time period, Collins said the book investigates how the fundamentals of shipping have stayed the same.
"Shipping is a problem-solving exercise. From the construction of vessels, to the maneuvers of ships, to travelling long distances, to understanding distant markets and cultures, it all means problem solving," he added.
"There are maritime trade themes that occur in the early Ice Age that reappear throughout history. These are themes that help to drive world history."
Collins noted that you do not have to be a shipping expert, or an academic, to get to grips with the role maritime trade has played in shaping the world around us today.
"A lot of people don't understand the importance of maritime trade in the modern world or really at any time," he said.
"Many people, especially outside of shipping, have some very outdated perceptions of what shipping is."
When asked why Baltic members would particularly be interested in this book, Collins replied: "curiosity."
"Some members might be curious as to maritime trade before the 20th and 21st Century. Some may have more of an interest in the ancient Greeks. I think, if you're a member of the Baltic, you have to curious about a lot of things. I hope not only this book but the whole series will be of interest to Baltic members."
This book is the first part of a three-part series, with the follow-up books looking at shipping between the 8th and 18th Century and then towards the modern day.
How Maritime Trade and the Indian Subcontinent Shaped the World: Ice Age to Mid-Eighth Century is available to purchase here.