Lars Jensen: Capacity changes display extreme volatility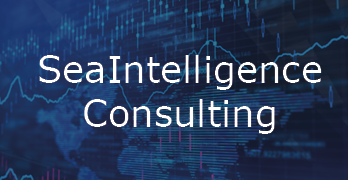 We are currently in a situation where container demand continues to grow, especially on the Transpacific, increasingly creating problems in not only access to vessel capacity but also access to container equipment. Furthermore, this increase happens at a time where it is clear, that especially Europe and North America are once more seeing an increasing trend in the virus, and major European countries are gradually closing down elements of society again.
Looking at capacity developments in 2020, including what the current plans are from the carriers for Q4 2020, we see some extraordinarily large swings. A look at the data on some key trades serves to illustrate the magnitude of the volatility.
On the Transpacific trade, overall deployed capacity in Q2 was down 11% compared to Q2 last year. If the carriers maintain their current deployment plans Q4 will see a net capacity increase compared to Q4 last year of 23%. And these are the data for the average seen over a full quarter. Closer examination of the capacity swings on a weekly basis reveals an even greater degree of volatility.
In the immediate wake of Chinese New Year, the Transpacific capacity was reduced by 50%. Then there was a brief window wherein China re-opened and the rest of the world was not yet impacted by the pandemic. Here we had a week in March where the capacity on the Transpacific actually was up 20% year-on-year. Only to see the world shut down and Pacific capacity was then reduced by more than 30% year-on-year only 6 weeks after the growth spike in March.
As we came to August, we once again saw capacity injections leading to a capacity growth above 20% year-on-year of capacity injection and in October we have two weeks with a year-on-year capacity increase above 28% - something the current planned capacity for the carriers shows will happen again in mid-November.
In the midst of the boom driven by dramatic changes in the behavior of the US consumer – we see weekly capacity spiking at 570,000 TEU. 
Another way of looking at it is to notice that as the world was impacted by the pandemic spread in the spring of 2020, the capacity on the Transpacific dropped to 340,000 TEU per week when it was worst. Now – in the midst of the boom driven by dramatic changes in the behavior of the US consumer – we see weekly capacity spiking at 570,000 TEU.

Similarly, in the Asia-Europe trade where the spring pandemic outbreak caused capacity to drop as low as 290,000 TEU only to now see it spike at 450,000 TEU. Or, even more extremely, in the Asia-East Coast South America trade where the spring outbreak at one point led to only a single direct weekly sailing with a weekly capacity of 8,500 TEU versus a capacity spike now in October above 50,000 TEU of capacity being operated.
These extreme swings in capacity are a direct result of the carriers' newfound ability to effectively manage capacity at a trade lane level combined with unpredictable and large changes in demand.
Looking ahead to the coming months, the market consensus appears to be that the current boom in demand will persist for several more months to come. However, it should be kept in mind just how rapidly the situation has proven itself to change on multiple occasions already in 2020. China lock-down. China re-opening. Rest-of-the-world lockdown. Cargo boom in North America.
All of these events shifting demand flows within a timespan of just weeks. And whereas the carriers have been adept at adjusting capacity at an equally rapid pace, there are elements of the supply chain that cannot be adjusted as rapidly. This is right now seen in the availability of empty containers where acute shortages are causing extreme upwards pressure on freight rates.
Hence, when looking to the developments for the coming months, market participants should carefully consider how solid and predictable they truly believe their assessments of demand flows are – especially when seeing the above data on the magnitude and speed with which we have seen fundamental changes within 2020 whenever the spread of the virus changed.
About Lars Jensen, CEO, SeaIntelligence Consulting
Lars is a leading expert and thought leader in analyzing global container shipping markets. Lars has 19 years experience hereof the last 9 within multiple companies he has founded, with the main focus as CEO of Seaintelligence Consulting.